About Roy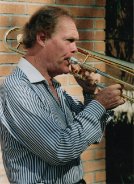 Roy Wiegand was born in New Orleans, Louisiana, on June 24th, 1936. He had an early start with music. Milton Bush was his first private music teacher, who had inspired him to continue with the trombone, and which has had a life-long impact. At the age of 16 and a half, he was substituting for his teacher while studying at Warren Easton High School.
He was in a youth band, together with Warren Luening, Charlie May, and a rhythm section. They performed in 'The Colgate Comedy Hour' on C.B.S., as well. The youth band worked 6 nights a week. The day after high school graduation, Roy went to Los Angeles. His goal was to play in the Stan Kenton Orchestra. Six months later, in 1956, he worked with Stan, while dodging National Guard Meetings each week.
In late 1957, he joined Woody Herman, which, of course, had a whole different style of music, but, was also a great experience. Then, in the summertime of 1958, Roy returned back home to New Orleans to be with his ill mother. She passed away in 1959. After that, he went to New York, after hearing so much about Urbie Green and Frank Rehak. His first job in New York was with Urbie's Big Band. Then, he played at the Copacabana, Plaza Hotel, and various Broadway shows. Within the 10 year period that Roy lived in New York, he played in the CBS Staff Orchestra with Ray Bloch, as well.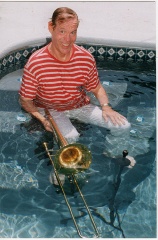 Roy Wiegand met his wife, Bridget in 1962. They married, and had 2 children, Roy III, who is also a musician, a professional trumpet player, and doughter Ann, a flute player. They lived in Long Island. Larry Muhoberac recommended him to a great musician, Otto Cesana. Roy took a music correspondence course each week for two years in New York, where he studied arranging, harmony, and theory.
Between 1968 and 1974 in Miami, Florida, Roy Wiegand played in the Jacki Gleason Show, as well as 6 annual Miss America and Miss Universe Shows. In addition, he had a steady 6 night a week job at the Americana Hotel. From 1974 to 1978 in his hometown, New Orleans, Louisiana, he played at the Fairmont Hotel Show Orchestra, with Band Leader, Dick Stabile, where his very close friend, Frank Trapani, was the lead trumpet player. In between 1978 and 1982, Roy worked in Las Vegas, Nevada in the Johnny Haig's Great Relief Band. In 1982, he returned back to Los Angeles, where he now resides.
Roy performed "Capriccio" in 2 1/2 Movements, by David Stout. That was quite a difficult solo trombone piece which he performed with the Los Angeles Solo Repertory Orchestra. Roy can be seen and heard in many films. Just to name a few; JFK, My Fellow Americans, Dead Again, Lush Life, Coneheads, School Ties, Elizabethtown, For The Boys, Presidio, Naked Gun 33 1/3, and Police Academy VI. Some television film credits include: Sinatra mini series, Star Trek-The Next Phase, T.V. Movie of the Week: Seduced By Madness, and I Desire. Roy has recorded with over 100 artists and now has four releases as a bandleader.
The Trombone:
Roy's Trombone is a Gold-plated Bach Stradivarius Model 16, made 1963, in Mount Vernon, New York.
Big Band Experiences:
Stan Kenton - Woody Herman - Xavier Cugat - Urbie Green - Kai Winding - the Bands at the Copacabana and Plaza Hotel in New York - the Johnny Haig Big Hotel Band in Las Vegas - Ken Poston Jazz Festivals, L.A., since 1995 - Steven Harris concerts since 2001 - Tours throughout U.S. with the "Stan Kenton Alumni Orchestra", since 1993.
Recordings:
Charles Aznavour - The Barry Sisters - Eddie Cano - Don Goldie - Claude Gordon - Woody Herman - Woody James - Quincy Jones - Jerry Katz - Sammy Kaye - Mike Lewis - Trini Lopez - George Maharis - Howie Shear - Dean Martin - Barbara McNair - Oliver Nelson - Don Rondo - Bobby Rydell - Sal Salvadore - Steve Spiegl - Dick Stabile - Enzo Stuarti - Sam "The Man" Taylor - Dan Terry - Keith Williams (arr. & composer) - Mike Vax - Kenton Alumni Orchestra - Jeff Berlin - Pete Rugolo - Paul Cacia - Robert Hicks - Michael Elias - Stan Kenton Celebration: Back To Balboa - Parachute Express - Jeffery David - Murray Middleman - Jim Martinez - Danny Moynahan - Johnny Oliver - Robbo - Larry Linkin - Patrick Plunkett - Billy Vaughn in Japan - Alex Nester - Mt. San Antonio - Dick Sykes - L.A. Symphonic Winds - Jim Smale - Rod Nelton - Jazz Odyssey - Studio Jazz Ensemble - Nancy Ames - Bobby Rydel - Gerry Katz Ronnie Kole - Ivan Simms - Cab Callaway - Maynard Ferguson - Gia Prima - Nancy Ames - Bob Brunner - Dan Terry - Mike Jenci
Various Reviews And Articles
---
Stan - The Big Sur
---
Trombonist Roy Wiegand's third big-band release in the last couple of years is by far his best to date with radiant charts by David Stout, Howie Shear, Kim Richmond, Johnny Richards, Rusty Higgins and Pete Rugolo / Bob Russell, and intrepid blowing throughout by Wiegand and his well-endowed companions. Wiegand, who once played in orchestras led by Stan Kenton and Woody Herman, among others, has invited several other Kenton / Herman alumni to the party including saxophonist Bill Perkins, trumpeters Mike Vax and Buddy Childers, bassist Don Bagley and drummer Chuck Flores (there may be others, but any allusion to them would be a guess).
And what an entertaining party it is, getting under way with Stout's keen-edged contrapuntal arrangement of Cole Porter's You'd Be So Nice to Come Home To and including first-rate original compositions by Richmond ►Big Sur, Richards ►La Guera Baila and Wiegand himself ►County Kerry Bridget, Jobim's billowing ►Wave, Rugolo / Russell's haunting ►Interlude, Herman / Ralph Burns' classic ►Early Autumn (smartly redesigned by Shear) and Shear's perceptive treatment of Tchaikovsky's ►None But The Lonely Heart (a showcase for Wiegand's lyrical trombone).
Completing the program are Eden Ahbez's chart-buster from the '50s, ►Nature Boy, the '70s pop hit, ►The First Time I Ever Saw Your Face, and a contemporary work by John Barry, ►All Time High (arranged by Higgins and sung by Andrea Baker). ►"Face" is a charming father-and-son encounter with Roy's trombone and Roy III's flugel sharing the solo honors, as they do also on ►All Time High. Steve Wilkerson is a standout on flute ►You'd Be So Nice To Come Home To, alto sax ►Wave or alto flute ►Nature Boy, as are tenors Perkins ►La Guera Baila and Jay Migliori, trumpeters Shear and Steve Huffsteter, pianist Don Haas (who sits in Kenton's chair on ►Interlude), drummer Flores and percussionist Michito Sanchez.
The theme of Wiegand's delightful Irish waltz, ►County Kerry Bridget, is tastefully introduced by Don Markese (penny whistle) and Haas (accordion) before Wiegand restates it on trombone. ►La Guera Baila (with splendid solos by Sanchez, Wiegand, Perkins and Huffsteter) is fairly typical of the Cuban-centered pieces Richards wrote for the Kenton orchestra, several of which made up the well-received album Cuban Fire! Richmond's rollicking Afro-Cuban tone poem, ►The Big Sur, uses some of that same fire to enliven earnest improvisations by Migliori, Huffsteter, Wiegand, Sanchez and Flores. While the first eight tracks are assuredly the strongest, the other three aren't bad, and there's enough persuasive big-band music-making from end to end to earn an explicit thumbs-up.
Jack Bowers,
All About Jazz
, February 2000
---
News For Immediate Release:

Sea Breeze Jazz is proud to announce the release of Stan - the Big Sur by the Roy Wiegand Jazz Orchestra. Covering a wide range of musical styles, this collection features Roy's lyrical trombone playing and a full spectrum of sounds by his jazz orchestra.
David Stout's unique contrapuntal treatment of the Cole Porter classic, ►You'd Be So Nice to Come Home To starts off the set. Roy's full-bodied solo sound balances nicely with the band in a full shot. Howie Shear's updated treatment of Jobim's ►Wave is refreshing and exciting Shear's arrangement also allows solo space for Steve Wilkerson's Phil Woods-inspired alto blowing as well as his own unique trumpet solo voice.
►Early Autumn once a big hit for Woody Herman in the 40's becomes more than slightly "Kenton-ised" in Shear's hands. The leader's trombone sound replaces Herman's tenor sax-centered Four Brothers sound.
Kim Richmond is one of LA's most talented and dedicated jazz musicians. His original composition, ►Big Sur is an Afro-Cuban jazz tone poem that features more Kenton-inspired brass interjections. Jay Migliori on alto, Steve Huffsteter on trumpet, Michito Sanchez on percussion, Chuck Flores on drums and Roy on trombone, all offer up fine solos.
Many music fans remember Nat Cole's hogely successful version of ►Nature Boy. This unusual popular song written by Eden Ahbez is placed in a totally new and contemporary framework by David Stout. A haunting almost classical trombone-with-strings introduction gives way to gritty and explosive jungle groove (with some interesting ensemble call and response improvisation) that perfectly suits Roy's trombone melody playing.
Roy's poignant treatment of Tchaikovsky's ►None But The Lonely Heart shows the leader's excellent control and lyricism. Shear's arrangement is true to the original, but possesses the arranger's unique harmonic signature.
Roy's original, ►County Kerry Bridget starts off as pure Irish waltz with Don Markese on the penny whistle and Don Haas on accordion. Eventually the tune transforms into a flowing jazz waltz.
Roy displays his own deep connection to the Stan Kenton trombone tradition on two tracks; Johnny Richards "La Guerra Baila" and Pete Rugolo's classic feature for the Kenton orchestra trombone selection, the mysterious "Interlude". Bill Perkins on tenor and Steve Huffsteter on trumpet offer up phenomenal solos on ►La Guera Baila, while pianist Don Haas handles his roles as "The Maestro" with dignified grace.
The set is rounded out with two contemporary pop standards. ►The First Time I Ever Saw Your Face which features a musical conversation between father and son! Roy Wiegand III is a gifted lead trumpeter in the L.A. area who proves himself to also be a very tasty and stylistic soloist.
►All Time High is written by film composer, John Barry, and features vocalist, Andrea Baker. It is a tasteful and tuneful last track that rounds out the set smoothly.
The veteran entertainer Mort Sahl puts it all very well: "The headline is a recent Sunday New York Times Art & Leisure section declared America to be a hip-hop nation." I hope not. So does my friend Roy Wiegand. So he comes forward with a jazz album. A Big Band jazz album. Probably because as a practioner (with Stan Kenton and Woody Herman among others) and as a listener he heard it all- and Dexter Gordon says in the film, "Round Midnight", "All I care about is the music."
Danny Beher, December 1999
---
Whatever Floats Your Boat Bone
---
Trombonist Wiegand, an alumnus of the Herman and Kenton orchestras, steers his 20-piece band through trumpeter Howie Shear's cheerfully confident arrangements of ►Angel Eyes, ►Summertime, ►Spain and others. The West Coast-based band has a large and glossy sound, its ensembles are in balance, and the soloists are effective, especially Shear, big band stalwart Jack Nimitz on bari, and the leader, who improvises with a warm, round tone. The drummer driving Wiegand's gang is the undervalued Bob Leatherbarrow.
Frank John Hadley,
Down Beat
, January 1997
---
Veteran trombonist Roy Wiegand Jr. is an L.A. mainstay for many years since establishing himself on the bands of Stan Kenton, Woody Herman and the New York studios and theaters. This album, his fourth as a leader, may be the surprise big band release of the year, sporting virtuosic writing and soloing throughout.
Wiegand's playing alternates between a relaxed jazz approach and sweet melodicism a la Urbie Green, complete with spectacular high-note endings. The arrangements are mainly the efforts of Howie Shear, who also takes the bulk of the trumpet solos in a fiery post-bop style. Shear attains his peak as a writer with his harmonic reworking of Chick Corea's ►Spain, with it's symphonic-sounding orchestration, and unorthodox charts of ►Summertime and ►Bess, You Is My Woman Now.
Other featured soloists include Ray Pizzi on various reeds, Dave Pozzi on tenor (who else but Roy would have gotten Pizzi and Pozzi together?), John Opferkuch with several outstanding piano solos, Jack Nimitz on baritone, Steve Wilkerson, tenor, Bob Magnusson, bass and Bob Leatherbarrow on drums. Roy's son, Roy III, takes a fat-toned trumpet solo on ►Dindi. Frank Strazzeri arranged his own ►Relaxin' and the album ends with a pretty ►Ave Maria (Bach/Gounod) based on Urbie's version.
This release should be a must for fans of big band and jazz trombone sounds, and offers close to 70-minutes packed full of exciting playing and writing. It definitely floats my bone!
Dan Weinstein, L.A. Jazz Scene - Los Angeles' only jazz paper
---
This recent recording marks trombonist Roy Wiegand's fourth as a leader. Most of the arrangements are by lead trumpeter Howie Shear, who produces a signature sound of: baritone sax at the anchor, trumpets on high, individual moments for the rhythm section, and of course a lot of solo space for the leader. The solo duties are balanced as well, with individual expressive choruses coming from a third of the band's members.
Pete Rugolo's liner notes give a moment-by-moment account of what is taking place for each number, and his description of ►Angel Eyes as 'smokin'pretty well sums up the entire set.
Chick Corea's ►Spain begins with a moving line from "Concerto de Aranjuez" before adding the congas of Michito Sanchez and a samba rhythm behind intense solos by tenors Steve Wilkerson and Dave Pozzi, who then trade fours and make way for trumpeter Shear.
Leader Wiegand shines on ►Summertime with a flowing legato trombone solo in front of a roaring Afro-Cuban arrangement for the band. But it is the ballad ►Angel Eyes that steals the show with its careful weaving back and forth between meters of three and four and the wide array of tone colors. Ray Pizzi pours on a soulful alto solo and Wiegand shows beautiful expression with his smooth slide technique and connected phrases. A veteran of the bands of Kenton, Herman, Ferguson, and more, Roy Wiegand shows a voice of his own in fine form.
Jim Santella, L.A. Jazz Scene - L.A.'s only jazz paper, December 1996
---
Whatever Floats Your Boat Bone is Roy's jazziest release to date. There are many surprises in Howie Shear's full-bodied arrangements and very creative solos throughout. Roy's versatility is highlighted again.
Roy's tune ►All By Myself In The Rain In New Orleans kicks this off with a blast. A nice solo from Roy, then a piano chorus to an exciting ensemble "Soli" to Howie's trumpet chorus to Nimitz on baritone; back to the ensemble. Listen to Roy's cadenza at the ending!
►Dindi pronounced "Jinji"; the first chorus is trombone melody. Second chorus gives way to Ray Pizzi's alto flute up to the bridge where Roy III's flugelhorn raises the bridge; Roy (trombone) takes over to end the chorus. Roy inserts a familiar "I love you Porgy" for the ending.
►Relaxin' - A fitting title for Frank Strazzeri's jazz vehicle. The arrangement is also by Frank. Listen to the relaxed opening chorus. Each soloist plays two choruses on this one. Roy plays first, then John on piano to Howie on trumpet. The "Pizza man" (Ray Pizzi) blows next on alto sax. Next is an interlude leading into the actual beginning of the arrangement.
►Angel Eyes - This is an easy going bluesy 'Tour de Force' for Wiegand. Very emotional and relaxed. After Roy's 16 bars, Shear's arrangement takes us to a wild interlude leading to a jazz waltz for the bridge. Back to 4/4 for the last eight bars. Pizzi walls up to the bridge of the second chorus where Roy continues in 4/4. Roy gets "mean" at the end of his chorus! Back to the big band for the final chorus - into a vamp with a very effective fade ending. SMOKIN'!
►Bess, You Is My Woman Now - Roy answers his own melody with some "plunger" jazz in the first chorus. Roy III plays the next solo on trumpet, followed by Ray Pizzi on soprano. Roy plays a laid back chorus in half-time on trombone followed by Jack Nimitz on baritone. We go back to the melody now winding up with a long vamp with a trombone and plunger ending.
►Spain - A haunting intro using the "concierto de Aranjuez" by Joaquin Rodrigo with five woodwinds; two flügelhorns and Roy on the melody. Ray Pizzi harmonizes with Roy on alto flute, right into Spain. Another beautiful arrangement by Howie Shear, Steve Wilkerson and Dave Pozzi really wail on this one. Two choruses each - then two choruses of four's! Howie and Roy play one chorus each. Back to the orchestra. Check out the ending!
►The gift of the Magi - Howie Shear's chart in this - his own piece should make O'Henry very proud. Solo's are Howie-trumpet, John-piano, Ray-tenor, Bob-bass; then the two Bob's play the last solo; then into ensemble and out.
►Summertime - This one is in 12/8. Bob Magnusson starts this one off after a brief band intro to Roy on melody twice with a 12/8 interlude in between. Howie blows a spirited solo. Dave Pozzi tells you how he feels about it next. John has something to say also on his piano! Well Roy has to get his own two cents in! More 12/8 interlude. Don't let the silence fool you - there's more to come.
►It's a lonesome old town - This starts with a distant woodwind intro with the trombone sneaking in before the melody. First chorus belongs to Roy. The second chorus is Ray Pizzi playing with a double-time feel. Roy returns with the bridge in 1/2 time against the double-time feel and finishes the piece up an octave.
►Chico and the Man - A catchy piece by Jose Feliciano. Joe Curiale has arranged this one as a Bossa-Nova highlighting the trombone. Listen to the four bar suspension leading into Roy's jazz solo. Roy's cadenza ends on the Major 7th of the chord. In this case it's a high F#.
►Ave Maria by J.S.Bach and Charles Gounod. This bonus cut was adapted for harpsichord, organ, bass and trombone by Roy Wiegand. Dedicated to the legendary trombonist: Urbie Green.
written by Pete Rugolo
---
Love Sounds & The Best From Hollywood
---
Roy Wiegand, known as "Wig" to many of his friends, clearly demonstrates that he is also The Wig of the trombone on his new album "Love Sounds". His credits don't include all of those 'And Many, Many More' because he had already played with Stan Kenton at age eighteen.
In the late fifties he migrated to New York City. His first "gig" was with the Urbie Green Big Band followed by some concerts with Kai Winding's Trombones and a four month stint with Maynard Ferguson recording "Echoes of an Era." Then into the circuit of jazz clubs and hotels with Sal Salvador, Quincy Jones, and Oliver Nelson and more live albums including a "non-jazz" album with Enzo Stuarti at Carnegie Hall. As he puts it, "a wonderful opportunity" to perform on the Woody Allen hosted show, "Coliseum" along with the Ed Sullivan and Jackie Gleason shows.
In 1982 Roy returned with his family to Los Angeles, making a stop-over in Las Vegas, working the big acts and hotels with Johnny Haig's great show band. And again, as a Hollywood free lancer, he worked with Don Peake at ABC doing the Movie of the Week, "Entertainment Tonight" themes and "Knight Rider".
A native of New Orleans, he's right at home with Dixie and the blues. When you listen to ►La Strada and ►A Portrait Of My Love, you'll know his versatility runs the gamut - and how about the jazz on ►Recado? His choice of songs for "Love Sounds" is infalible. Who else would select Rachmaninoff-Paganini? No, he didn't play the lovely guitar, violin, or cello, but the luscious sounds from the trombone section on ►Chega De Saudade and ►One Hand, One Heart are all Roy: including the lead (melody) second, third, fourth and bass trombone.
Roy's first album, Home Again, was based on a series of traditional songs like ►All By Myself In The Morning, ►New Orleans, and ►Mama's Gone Goodbye. A fine collection of good old down home jazz. In 1987, he soloed on Bill Russo's "Solitare", one of the greater sides of Paul Cacias' on his "Stan Kenton Alumni Tribute".
Relax and just kick back for some truly easy listenin' or whatever might possess you at the time. "Love Sounds" could move you to "go for it" or...oh well... that's your own business. Enjoy, and thank Roy!
Bob Fitzpatrick